Float
Portfolio | – | Links: Float Today Inc.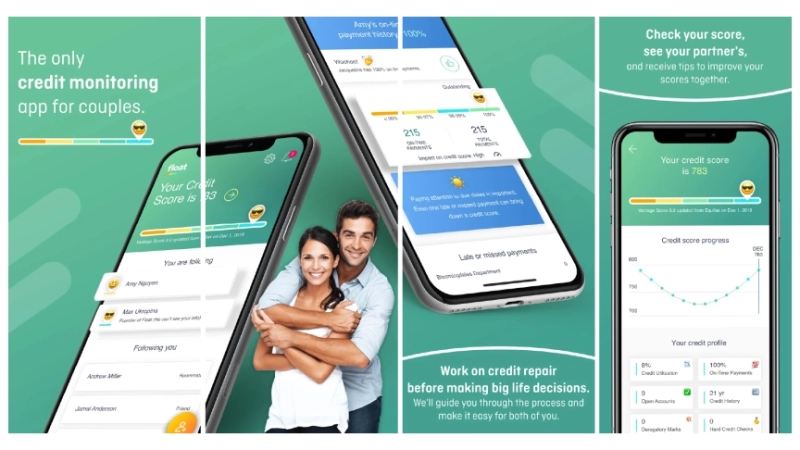 I developed the Android application for Float Today (an award-winning FinTech start-up focused on tracking credit scores) making use of Equifax APIs, using Google's architecture components, MVVM, and libraries such as Retrofit, RxJava, Tink & Lottie.
Float gives you free access to your credit report, and is the only app that lets you help friends & family keep track of their credit, too.
Share your credit information with anyone that may need it. Family, friends, it's up to you. You control the level of info shared with each connection, giving you full control over your financial information and encouraging community around financial health.
The only Credit & Finance app for Couples!
View both partner's scores in one place and take control over your credit report information, together.
Our mission: make uncomfortable conversations comfortable and keep your family financially healthy.
We give you advice on how to improve your scores, so you can owe less, pay less, and live more.
Buying a car? Learn whose name should be on the title.
Buying a home? Discover who should take out the loan.
Paying off debt? See how it will affect your score.
Combining finances? We can help.
Backed by Equifax data.
HOW FLOAT WORKS
Each partner creates a free Float account. You'll have access to your full Experian credit score and what's affecting it.
Share your score with your partner.
Choose how much you share from one of our three levels of sharing: an emoji, a credit range, or your full credit score.
Track changes in each other's score, receive tips on how to improve them, and celebrate wins together!
WHY FLOAT?
Float is simple but is serious about your privacy.
Float is the only finance app for couples that allows for shared credit tracking.
Float is simple and easy to use. Your score is updated every two weeks, with tips and insights on your progress.
Use of Float will not affect your credit score or the score of your partner.
Float gives you control. You choose how much to share with your partner and change it at any time.
WANT TO BUY A HOME TOGETHER?
Float makes it easier for couples who need to work on credit repair before making big life decisions.
Access our loan marketplace where you can find the right loan to fit your needs, jointly or personally.
OTHER GENERAL FLOAT FEATURES
Check your credit score easily. Enjoy free credit monitoring and automatic notifications as soon as your Experian score gets updated.
Learn what affects your credit score and how you can make progress toward the score of your dreams.
Browse credit cards based on your score.
Access our loan marketplace to snag great rates on loans (car, mortgage, personal, etc).
Want to make money management as a couple a whole lot easier? Download Float to start checking and improving your credit scores together.
Download