iHeartRadio
Portfolio | – | Links: Google TV | Fire TV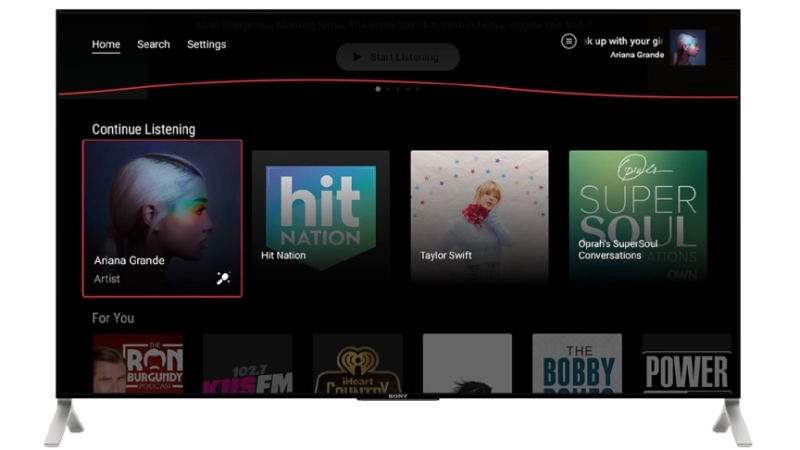 As the lead developer I worked closely with product, design, and stakeholders to re-build the iHeartRadio Android TV and Fire TV apps using Kotlin, agile methodologies, pair programming, and test driven development. I was also the technical consultant on other projects with iHeartRadio focusing on Android Auto and iOS CarPlay.
iHeartRadio, Clear Channel Media and Entertainment's all-in-one digital music and live streaming radio service with more than 300 million app downloads, today announced that it will be available out of the box on Amazon Fire TV, a tiny yet powerful way to watch movies, listen to music, and play games in the comfort of your living room. iHeartRadio was also one of the first apps available and optimized on Amazon's line of Kindle Fire tablets.
iHeartRadio's integration with Amazon Fire TV will provide consumers instant access from the comfort of their living room to more than 1,500 Live Radio stations from across the country and hand curated iHeartRadio digital only stations, as well as the ability to create their own stations from a library of more than 450,000 artists and 18 million songs – all for free. Other optimized features include the ability to save and easily access favorite stations, skip songs on Custom Stations, thumbs up / thumbs down songs and more.
…
"iHeartRadio's launch onto Amazon Fire TV is another key step in our pledge to be everywhere listeners want us to be, whether they want to hear the music and radio stations they love in their living rooms or on the go," said Brian Lakamp, Clear Channel's president of digital. "We're excited to continue our relationship with Amazon and be able to extend our reach to even more consumers through Fire TV's simple and affordable in-home platform."
"iHeartRadio is a customer favorite, letting users listen to popular live stations or create custom stations from the artists they love," said Mike George, Vice President of Amazon Appstore and Games. "We think it's a great addition to Amazon Fire TV, so customers can listen to their favorite music right in their living room, with no hassle."
The iHeartRadio app, which reached its first 20 million registered users faster than any digital service in Internet history, delivers everything listeners want in an all-in-one platform: Instant access to more than 1,500 radio stations from across the country, user-created Custom Stations inspired by a favorite artist or song, thousands of curated digital stations "Perfect For" any mood or activity, and the new Shows & Personalities feature giving users access to the best on-demand news, talk and entertainment content available today. To see all available platforms and to download the app, visit iHeartRadio.com/apps.
About iHeartMedia, Inc.
iHeartMedia (NASDAQ: IHRT) is the number one audio company in the United States, reaching nine out of 10 Americans every month. It consists of three business groups.
With its quarter of a billion monthly listeners, the iHeartMedia Multiplatform Group has a greater reach than any other media company in the U.S. Its leadership position in audio extends across multiple platforms, including more than 860 live broadcast stations in over 160 markets nationwide; its National Sales organization; and the company's live and virtual events business. It also includes Premiere Networks, the industry's largest Networks business, with its Total Traffic and Weather Network (TTWN); and BIN: Black Information Network, the first and only 24/7 national and local all news audio service for the Black community. iHeartMedia also leads the audio industry in analytics, targeting and attribution for its marketing partners with its SmartAudio suite of data targeting and attribution products using data from its massive consumer base.
The iHeartMedia Digital Audio Group includes the company's fast-growing podcasting business – iHeartMedia is the number one podcast publisher in downloads, unique listeners, revenue and earnings – as well as its industry-leading iHeartRadio digital service, available across more than 250 platforms and 2,000 devices; the company's digital sites, newsletters, digital services and programs; its digital advertising technology companies; and its audio industry-leading social media footprint.
The company's Audio & Media Services reportable segment includes Katz Media Group, the nation's largest media representation company, and RCS, the world's leading provider of broadcast and webcast software.
Visit iHeartMedia.com for more company information.1
---
Reference: