Motherhood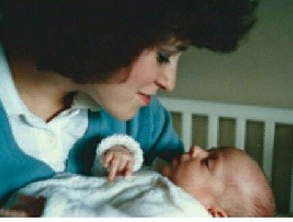 If life is something to be celebrated, then the giver of life must be an even greater thing to celebrate.
My mom, Kelly Rummler, is an example of strength to me. She knows that true motherhood isn't the result of child birth, but rather hours upon hours of selfless service. She recently wrote the following:
"When a girl becomes a mother, she steps out of center stage and she fades into the back stage. Then she learns to be the producer, the director, the choreographer, the back drop and everything else. Her children take on her place at center stage. This is how the past 28 years of my life has felt."
To Every Mother
---
MY MOM, KELLY RUMMLER
Kelly was born on September 3rd, 1962 in Buenos Aires, Argentina. Her dad, Lavon Satterfield, was a great athlete. He is in the college football hall of fame at Brigham Young University (BYU). Lavon met my Grandmother (I call her Nona) on a mission for his church in Uruguay. My mom has two older sisters and one older brother. Lavon was a geologist and worked for Exxon Mobile and Arco. His job led to several moves between North and South America.
Six months after my mom was born the family moved to Bogotá, Colombia. When my mom was four years old, the family bought a home in Houston Texas. After spending 2 years in Texas the family moved back to Buenos Aires where my grandpa worked for 2 years.
My mom started kindergarten in Texas but went to 1st and 2nd grade in Argentina. After 2 years back in Argentina the family made a permanent move to the United States. They still owned the home in Texas and moved back to Texas. Later they moved to California. Frequent moves from North and South America made language confusing for my mom. Kelly claims that as a child she spoke "Spanglish".
EDUCATION
My mom and I have a lot in common. One thing we have in common is that we both attended the same Elementary School, Middle School, and High School. Her driver's ed teacher was my Middle School science teacher. After my mom graduated High School she moved to Provo to attend BYU.
MARRIAGE & FAMILY
My mom and dad (Greg Rummler) dated while they both attended BYU. My mom was a hard catch but persistence payed off. My mom recently wrote about my dad's persistent nature:
"[The] fall semester of school proved to be a game changer for me. Guys were after me like crazy, I couldn't get rid of them. Every week was packed with dates. I was having too much fun; my grades were suffering.

A few weeks into the semester, Greg called… He asked, Do you want to go out this Friday? I said, I already have a date on Friday. He asked, How about Saturday? I said, I have a date on Saturday too. He asked, How about Sunday? I replied, I have a date on Sunday. I laughed. He asked again, How about next weekend? I said, I have dates all next weekend. He asked, Okay, then the following week? I said, I have dates for that weekend too and even on the weekdays I have dates. Did he not believe me? There was a pause, and with a bit of frustration in his voice he said, I'll call back in a few weeks."
My mom must have found time for dates with my dad. My dad won my mom over by his persistence and planning. My mom claims that she started to fall in love with my dad when he took her on a romantic perfect date. They went skiing together and my dad planned the date well with a picnic styled lunch. While skiing down the slopes my mom realized that now she was the one chasing after my dad. On August 18th, 1984 my parents were married in the Los Angeles California Temple.
Shortly after they were married, to their surprise, my mom was pregnant with her first child (me). I was born on my dad's graduation day which made him miss his ceremony. Shortly after I was born we moved to Seattle Washington where my dad found employment with Safeway. In 1990 our family moved to Orange County, California.
TRIALS
Everyone goes through various trials throughout their lives. My mom knows what it means to endure hard times. As a child my mom had a very hard time with her older brother. He was later diagnosed with schizophrenia.
Another major trial was about to occur in my mom's life after the move to Seattle. My parents were trying to add to our small family. They were excited to learn that my mom was pregnant. However, to their despair, they later learned that their son would be born with a hypo plastic left heart (a fatal heart defect). Justin was born on July 31st, 1992 and died just two days later. My parents tried to have children for many years and were never successful when they planned for children. My mom went through 10 devastating miscarriages. They adopted my next brother in 1996 and to their surprise they had 3 more children. Our family is very spread apart. Beside Justin, I have 3 younger brothers and 1 sister. As of October 2014, the ages are 29, 21, 18, 10, and 7.
Every parent knows that some of their biggest trials come from their children. They also know that the greatest joys of life come from their children. My mom continues to deal with trials with her kids. I know that I have contributed both to my mom's happiness and also to some of her most stressful and unpleasant experiences. One of those trying times came when I was diagnosed with stage III non-seminoma testicular cancer shortly after I graduated High School. My mom, pregnant with my sister at the time, proved that motherhood is a sacred and special responsibility. I will be in debt to her forever for being at my side throughout all of the ups and downs of chemotherapy and an intense surgery.
BLESSINGS
My mom is talented and very driven. She is a great photographer and loves to scrapbook. Some of her greatest blessings have been her marriage, financial stability, help from loving parents, her faith, and becoming a grandma (we call her Noni).
My mom is one of the greatest gifts I have. Her example and character have shaped my life forever.